With more than 125 years of experience in compaction machinery and pioneering work in the field of oscillation technology, Hamm is one of the industry's frontrunners. It is therefore appropriate that the specialist in compaction technology is working with
HANSA‑FLEX
. The fluid technology specialist supplies hose lines for 80 different machine types to Tirschenreuth in Bavaria, where the rollers are developed and produced.
In Europe's most modern roller factory extending to 58,000 square metres, Hamm produces tandem rollers, rubber-wheeled rollers and single drum rollers up to a total operating weight of 28 tonnes. Hamm ensures effective production with eight, efficiently designed production lines, optimised material flows from goods receipt to delivery, and intelligent storage systems. An important component of the ingenious production concept: hose assemblies from
HANSA‑FLEX
.
Series production
8,000 hydraulic hose lines per week are manufactured at the
HANSA‑FLEX
location in Košice in Slovakia for Hamm's HD and Euro series. There they are picked in advance for specific machines and put together as kits customised for preassembly and production cycle assembly operations. The Hamm material number, which
HANSA‑FLEX
embosses on the sleeves, indicates exactly where each hose line is to be installed. "All hose assemblies are shipped in pallets with push-on frames, in which each kit is separated from the others by a cardboard box," is how Andrea Albrecht, Managing Director of
HANSA‑FLEX
Slovakia, explains the procedure. When the goods reach the customer, three
HANSA‑FLEX
employees store the hose lines on the Kanban shelving. "We deliver our hose lines directly to the assembly line, structured according to the individual operating process. This not only eliminates the time-consuming search for components, but also the need for intermediate storage," Albrecht adds. To ensure that the required goods are available at the roller manufacturer's production facility at the right time, the hose line assemblies are called off according to delivery schedules. "Our truck makes regular trips from Košice to Tirschenreuth to deliver the ordered goods," says Albrecht.
[Translate to Englisch:] Individuelle Sonderanfertigungen
[Translate to Englisch:] Für die Betreuung von Hamm zuständig sind die Mitarbeiter der
HANSA‑FLEX
Niederlassung in Bayreuth, die nur 60 Kilometer von Tirschenreuth entfernt ist. Dort werden auch Spezialschläuche und Sonderarmaturen für die Walzen gefertigt. "Die Nähe zum Kunden ist ein großer Vorteil, besonders wenn es mal schneller gehen muss, beispielsweise bei Tagesbestellungen oder Ersatzteilen", veranschaulicht Sebastian Schlüter, Vertriebsmitarbeiter der
HANSA‑FLEX
Niederlassung Coburg, der mit Hamm seit sieben Jahren eng zusammenarbeitet. "Einmal in der Woche bin ich beim Kunden vor Ort, um aktuelle Projekte zu besprechen und Optimierungspotentiale aufzudecken." Dafür spricht Schlüter direkt mit den Mitarbeitern an den Montagebändern. "Durch den Austausch mit den Monteuren vor Ort können wir frühzeitig Schwierigkeiten erkennen und Anpassungen beispielsweise in der Verlegeart vornehmen", fasst Schlüter zusammen.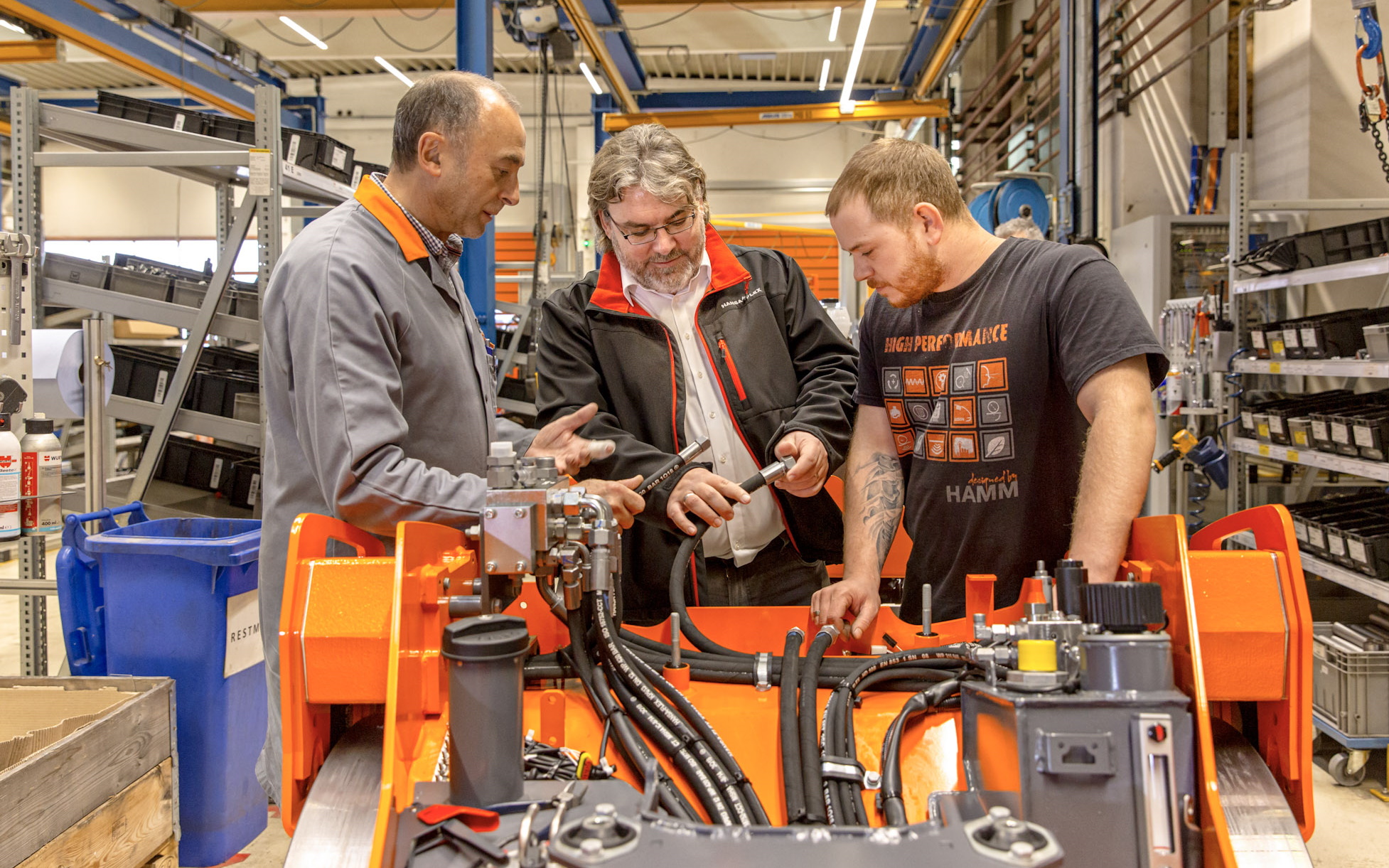 Proximity to the customer is a great advantage – especially when time is of the essence.
Prototype development
Hamm also relies on the advice of the experienced specialists at
HANSA‑FLEX
for prototype development: during an initial analysis the installation conditions of the hydraulics are examined closely. "Because the entire machine has already been designed, the hydraulics have to be adapted to the available space at the very end," says Schlüter, providing an insight into how things are done in practice. "We fit the machine with suitable hose lines according to the spatial conditions and other requirements." In addition to the length, the connections and the diameter, the features of the hose line are also important: whereas they are only exposed to minor stress during steering, the lines for the roller drive and compaction need to function reliably under heavy-duty conditions. "We therefore use hose lines with several steel inserts that not only withstand the strong vibrations, but also a pressure of over 350 bar," says Schlüter. Once the hose assemblies have passed the initial sample inspection by Hamm's quality assurance department, nothing then stands in the way of series production.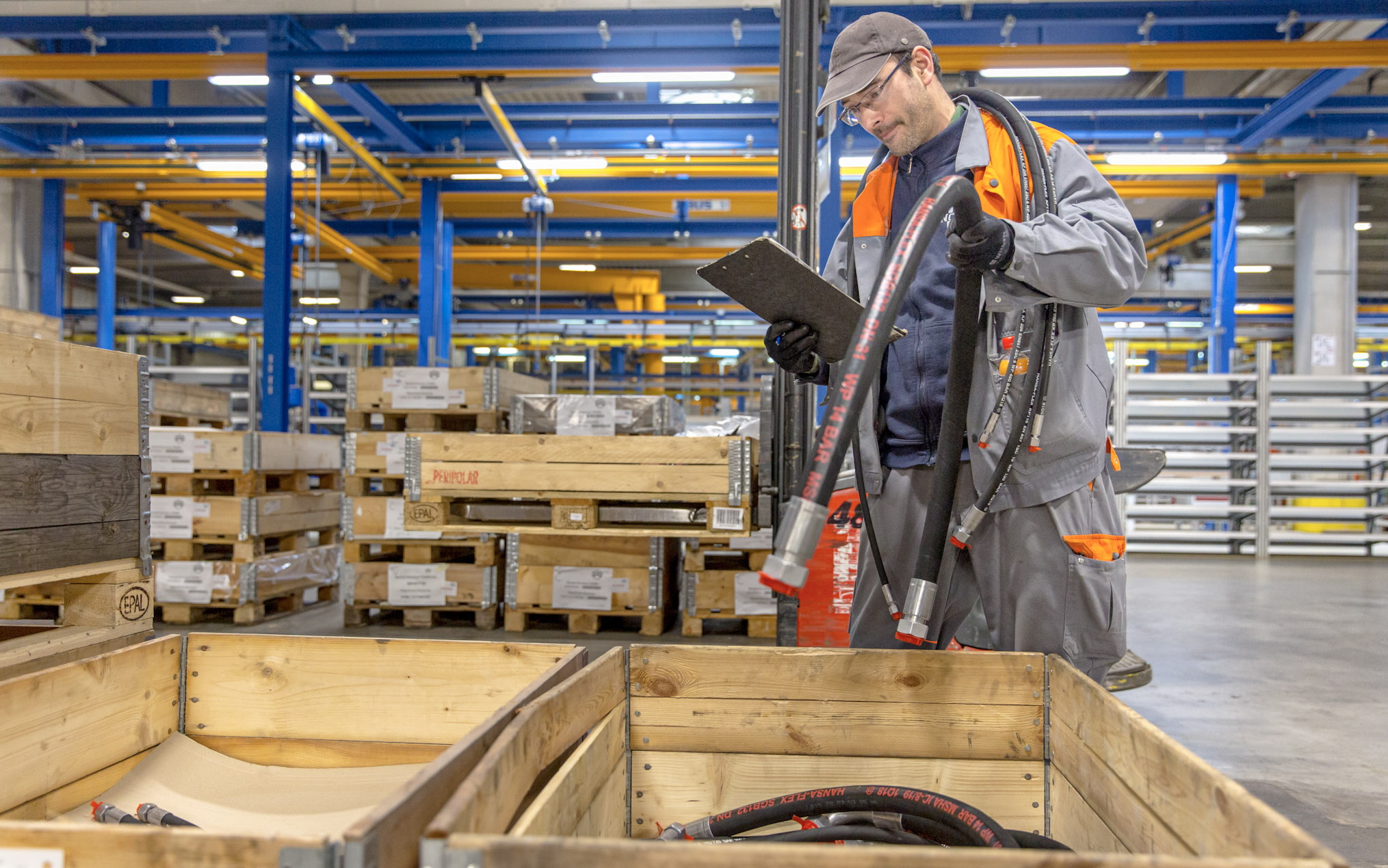 8,000 hydraulic hose lines per week are manufactured for Hamm. They are picked in advance for specific machines and put together as kits customised for preassembly and production cycle assembly operations.
Comprehensive cooperation
The know-how of the fluid technology specialists is also required for the maintenance of Hamm's production machinery. In addition to measuring and changing hoses and pipelines in the hydraulics, the service also includes the replacement of pipelines for high-pressure washing equipment as well as tank and filling systems.
"Our broad product spectrum and extensive branch network are clear advantages for our customers!"
"We ensure the consistent quality of our products worldwide and lay the foundation for growth, because be it series production, development or after-sales, we're always on the spot with our know-how!"
This is particularly important if there is a machine breakdown on a construction site. In order to avoid long downtimes, a quick response is required: either the Rapid Hydraulic Service mobilises and produces the required components directly in the workshop truck, or Hamm requests spare parts from Bayreuth, which are then shipped by express delivery.