HANSA‑FLEX

is your reliable partner for inspections

Hydraulic systems work extremely hard. Regular inspections are therefore obligatory in order to ensure reliable and safe operation of systems and machines. The fluid specialists qualified as officially authorised persons at HANSA‑FLEX support you with the inspection of hydraulic hose lines, industrial hoses, pressure accumulators, lifting platforms and loading bridges in accordance with the legally prescribed requirements such as set out in DGUV and BetrSichV.
Work equipment and operating materials reliably inspected with
HANSA‑FLEX
The trained and certified experts at HANSA‑FLEX perform the regularly prescribed inspections of hydraulic systems including documentation.
Legally compliant documentation based on inspection records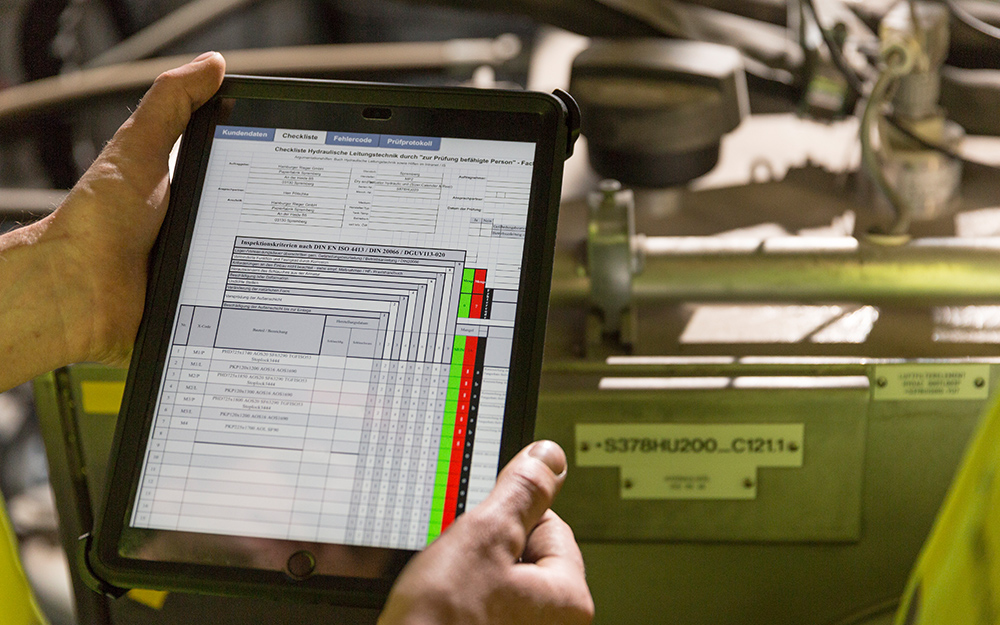 Scope of documentation
As part of the inspection, our experts document all the results in a clear and legally compliant manner for you. All the customer's data and information about the system or machine are collected on our standard record sheets so that there is no doubt later about the details of the inspection. The documentation gives you information about:
All the performed inspection tasks
The date of the next inspection
Any defects or abnormalities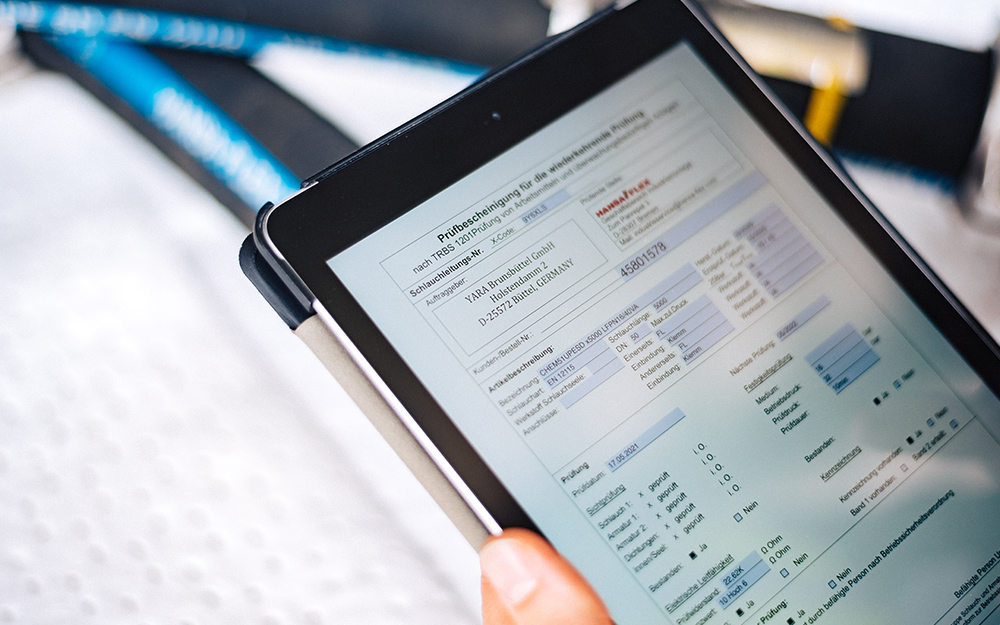 Creation of the documentation
The documentation includes photographs of the system or machine to be inspected, such as photographs of the identification plate or particular construction features as verifiable evidence of its general condition. Any defects are photographed and filed. The photographs are a constituent part of the documentation and are sent to you together with the inspection sheets in digital form after completion.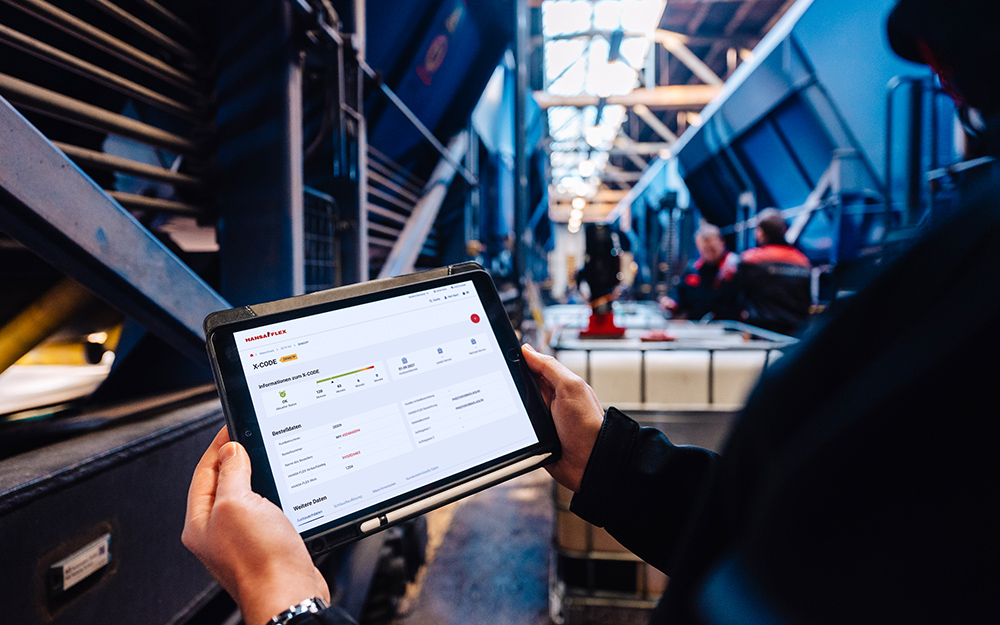 Digital data capture and management with X-CODE Ma
The documentation of the inspection of hydraulic hose lines is done in our hose management software. All the important information about every single hose line is stored there:
Unique identification by X-CODE
Manufacture, installation and, if necessary, replacement
Risk assessment and inspection interval
Comprehensive service for your systems and machines
Our employees are experienced fluid specialists and support you with all tasks to do with the servicing, maintenance and overhaul of your pneumatic and hydraulic systems.
Better safety and service with
HANSA‑FLEX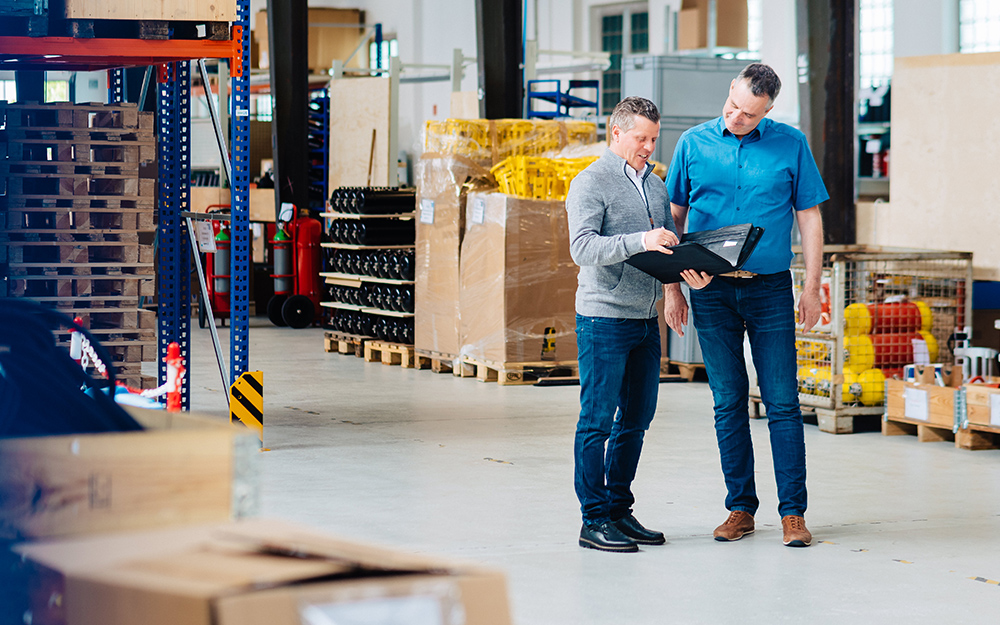 Comprehensive services all from the same provider
We are your service partner for everything to do with the inspection of hydraulic work equipment. We support you in the following tasks:
Performance of inspections including documentation
Advice and assistance in the preparation of risk assessments
Installation and removal of the components to be inspected
Replacement and overhaul of defective components
Advice on the optimisation of machines and systems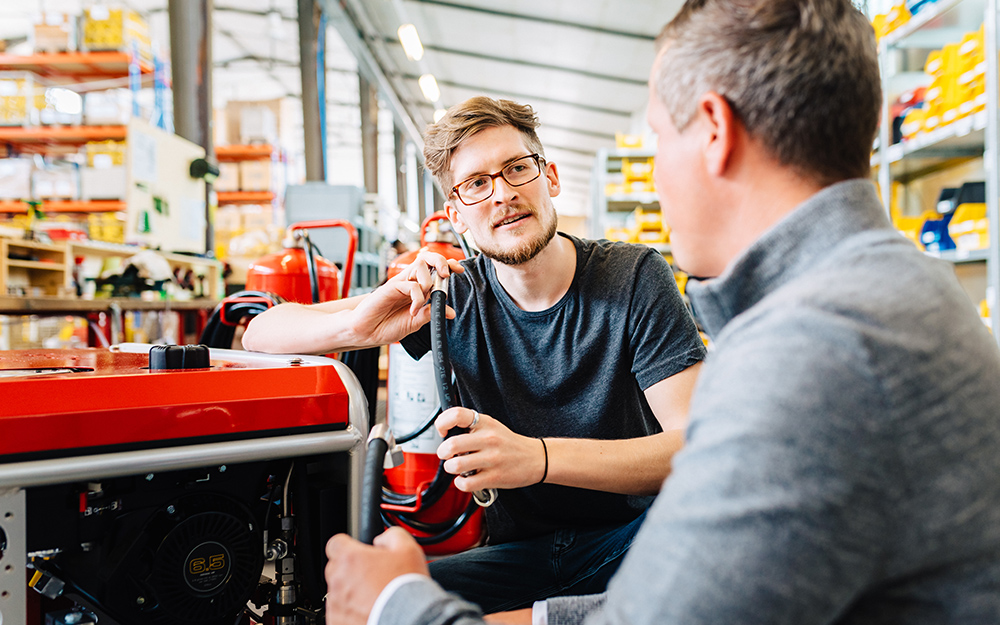 Always on the safe side
With services from HANSA‑FLEX you are better assured of legal compliance. When performing inspections, we make sure we comply with the legal requirements and document the results in an inspection record:
German Industrial Safety Act (BetrSichV)
Machinery Directive / EU Use of Work Equipment Directive 2009/104/EC
European Pressure Equipment Directive (PED)
Germany's statutory accident insurance organisation (DGUV)
Technical rules for Industrial Health and Safety (TRBS)

Authorised persons at
HANSA‑FLEX
The experts at HANSA‑FLEX who perform the inspection of hydraulic and pneumatic work equipment are certified by independent testing bodies as having the relevant up-to-date specialist knowledge.
Unsere Mitarbeiter sind als befähigte Personen in folgenden Bereichen qualifiziert:
Befähigte Personen für Leitungstechnik
Befähigte Personen für Druckspeicher
Befähigte Personen für Windenergieanlagen
Befähigte Personen für Hebebühnen und Laderampen
Befähigte Personen für Industrieschläuche