The drilling head with 58 rotating cutters gnaws its way through the mountain. Powered by 5,500 hp the tunnelling machine drills into the gneiss, driving the Gotthard Base Tunnel through the mountain slowly but surely. A pioneering achievement for the 21st century, opening up new perspectives for rail traffic through the Alps.
Today's mobile society is forced to invest in modern transportation projects if it is to cope with the ever-increasing levels of freight traffic crossing the Alps by road and rail. Here the aim is to prevent traffic breaking down altogether and to preserve the quality of our environment. We need to strike out on new paths. 200 tunnelling projects are scheduled for the next few years alone.

One of them is the Gotthard Base Tunnel, which at an impressive 57 kilometres is set to become the world's longest tunnel. As many as 150 freight trains already run on the Gotthard axis every day. Once the tunnel is completed in 2017, this is due to rise to over 200 trains a day, corresponding to a transport capacity of 40 million tons of goods each year.

The Gotthard Base Tunnel, which is being built in different sections, will then allow trains to speed through at up to 250 km/h. They will run in two single-track tunnels, spaced at 40 m from each other and linked every 325 m by connecting galleries. To date contractors have excavated 70 percent of the tunnel structure: a total length of 153.3 km (including all shafts and connecting galleries).
Driving and intermediate headings
Extensive geological studies were required before demolition could begin and start-up of the tunnel boring machines (TBMs). It depends on the nature of the underground whether driving of the tunnel can be carried out using TBMs or explosives. Different types of rock and sediment layers have to be removed, from the hardest granite to soft sandy stone. The progress of the driving work varies depending on the rock class, but under ideal conditions up to 25 metres is possible per day. In compact gneiss the tunnel can be advanced and supported simultaneously while in poor-quality rock every metre blasted or bored has to be supported immediately, a time-consuming process. The construction time can be shortened by using additional tunnel access shafts from above or the side, so-called adits.

A TBM may be up to 400 metres in length, including the drilling head and all additional systems for the gripper. It is equipped with a crane, conveyor belt, control cab, a shotcreting machine and a trailer for workshop equipment. Given its size, this machine is far less mobile than the highly versatile method of blasting attack, which however only covers between six and ten metres a day. The same steps are constantly repeated: drilling, charging, detonating, ventilating, supporting and removal of muck. Whether blasting or using a TBM – tunnelling machines make high demands on operators, mechanics and engineers. Underground building sites are characterised by the presence of computer-controlled TBMs, drilling jumbos with several drill trucks, spoil vehicles, laser equipment and hydraulically operated liners.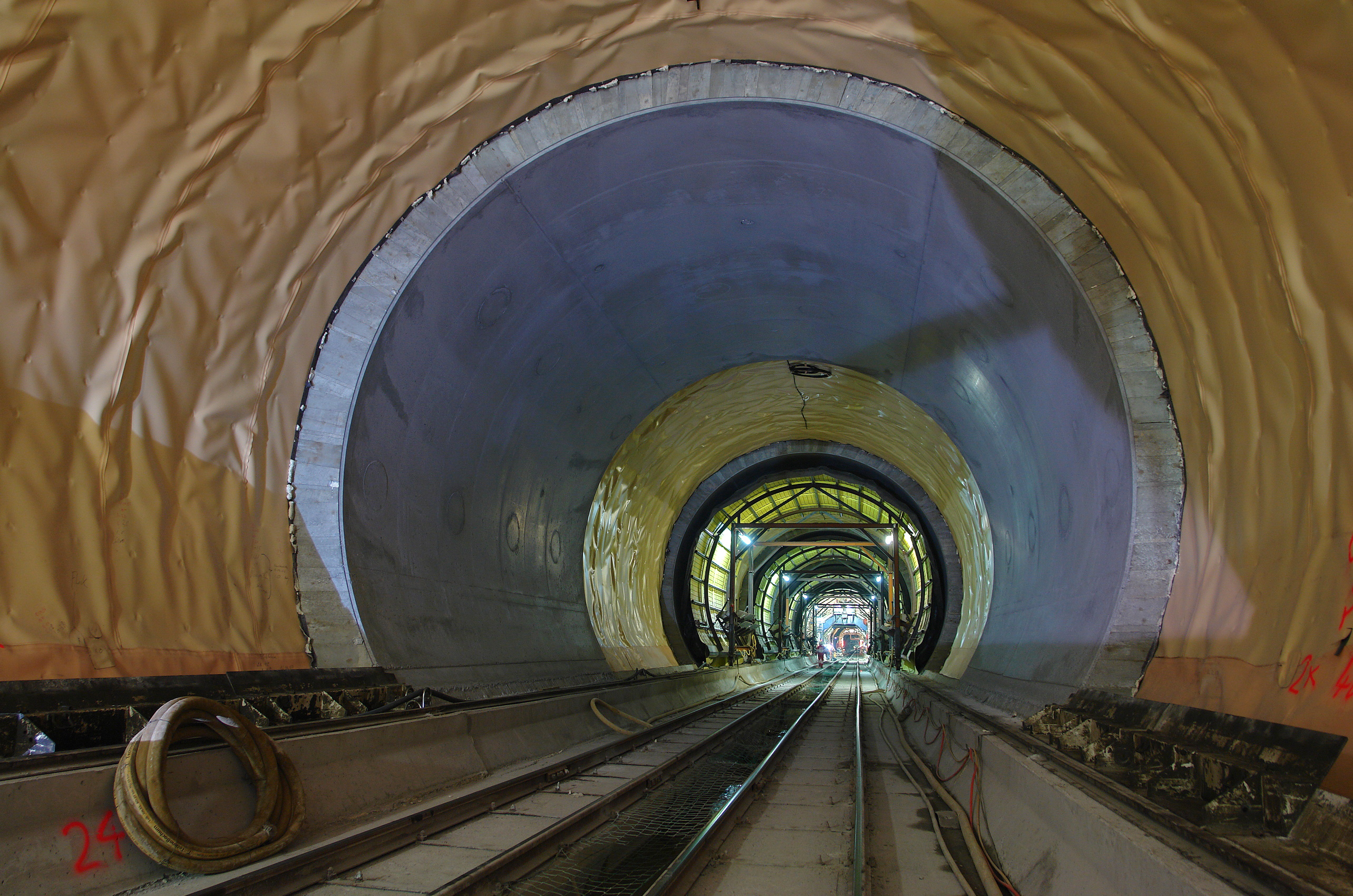 Amsteg: Concrete works on the inner shell of the Gotthard-Tunnel
A new hose line in five minutes
All machines work under tough conditions and are equipped with complex hydraulics system. "
HANSA‑FLEX
increasingly proves to be the right choice when tunnelling contractors are looking for a service partner," says Paul Rentsch, managing director of the Swiss
HANSA‑FLEX
AG, describing his experience with supporting such companies over the years. This means that
HANSA‑FLEX
's hydraulics workshop containers are very welcome at the construction sites of the Gotthard tunnel. The containers are located directly on site to provide direct access to all parts whenever a spare hose line needs to be manufactured. The equipment contained in the hydraulics workshops has been selected after years of experience in tunnelling. Streamlined structures and organisation ensure the men working in the tunnel have a clear overview of all parts, even when they are under stress: everything is neatly stowed away in drawers and shelves, ready to hand at all times. The following rule applies: It should not take more than 5 minutes to produce a spare hose line. The work of the TBMs and drilling must not be interrupted as it is almost impossible to make up for lost time. This is why the hydraulics workshops, once kitted out by
HANSA‑FLEX
, are often piggybacked onto a TBM. This ensures they are always at the scene of action and keeps unproductive time to an absolute minimum. Every third shift of the TBMs, which operate on a three-shift rota, is used to overhaul the machine.
Through the mountain with the mini
In addition, special
HANSA‑FLEX
mini-containers are available for use as "base camps" by the fitting teams on tunnel sites. They are also kitted out with all equipment such as a peeling machine and press as well as a stock of accessories. Positioned at central interfaces on the construction sites, they shorten the time required to produce spare hose lines. This allows contractors to work independently on site with an eye to costs, for example when fitting pipes to a concrete liner or a multi-head drilling jumbo.
Such a mini-container also arrives on a trailer when
HANSA‑FLEX
Ittigen is called to tunnelling sites with its mobile installation service. If fitting is not a quick job, the container is stationed on site. For instance, when a large TBM is to be started up at a new construction site or dismantled after a tunnel has been broken through. In such cases
HANSA‑FLEX
's dense network of branches comes in very handy, ensuring that spare parts are available at any time. This naturally also applies to industrial hoses for water/air and concrete, something of enormous benefit to the staff responsible on site: reliable suppliers help to streamline the processes involved in tunnelling.
But
HANSA‑FLEX
also overhauls the complete line engineering on a TBM before it moves on to new tasks. Repairs to hydraulic cylinders and prompt delivery of sealing kits or new hydraulic units are assured by the specialist centres of competence within the
HANSA‑FLEX
group.