Christmas is normally a time of reflection when people can enjoy some peace and quiet. But that doesn't apply to the maintenance team at KKF Fels GmbH & Co. KG. "When others go on holiday that's when things really get going for us", says Maintenance Manager Holger Stryck. He is responsible for keeping the huge injection moulding machines of the automotive supplier running smoothly around the clock. At the end of 2020, he commissioned
HANSA‑FLEX
to replace the hydraulic hose lines on a large machine.
If it were a house, it could easily pass for a villa, the huge injection moulding machine that stands in a production hall at the headquarters of KKF Fels in Goslar. It is around 20 metres long and almost five metres high. In spite of these dimensions, it has to be movable so that the injection mould can be opened and closed. KKF Fels has several of these behemoths and numerous smaller ones. As a supplier to VW, the company produces a wide variety of plastic components as part of the internationally-positioned OKE Group with approx. 300 employees. The components include air ducts for the engine compartment, wheel arches, door covers and sill covers. The emergence of electromobility has further filled the company's order books. For the new ID series, KKF Fels produces the aerodynamically-optimised cover for the underbody.
From granulate to mould
The plastic is delivered as granulate and then liquefied in a heated Archimedean screw. "Plastics such as polyethylene and polypropylene can already be processed at about 230 °C, while polyamides require 300 °C", explains Holger Stryck. Huge hydraulic cylinders push the two massive parts of the injection mould onto each other and press them together with an incredible 2,500 t clamping force. The Archimedean screw builds up pressure and a series of small nozzles deliver the right amount of liquid plastic to the right position. For large plastic parts, it takes about a minute until the workpiece cools down sufficiently to be solid enough for further processing. The hydraulic cylinders then open the mould again and robots remove the product fully automatically.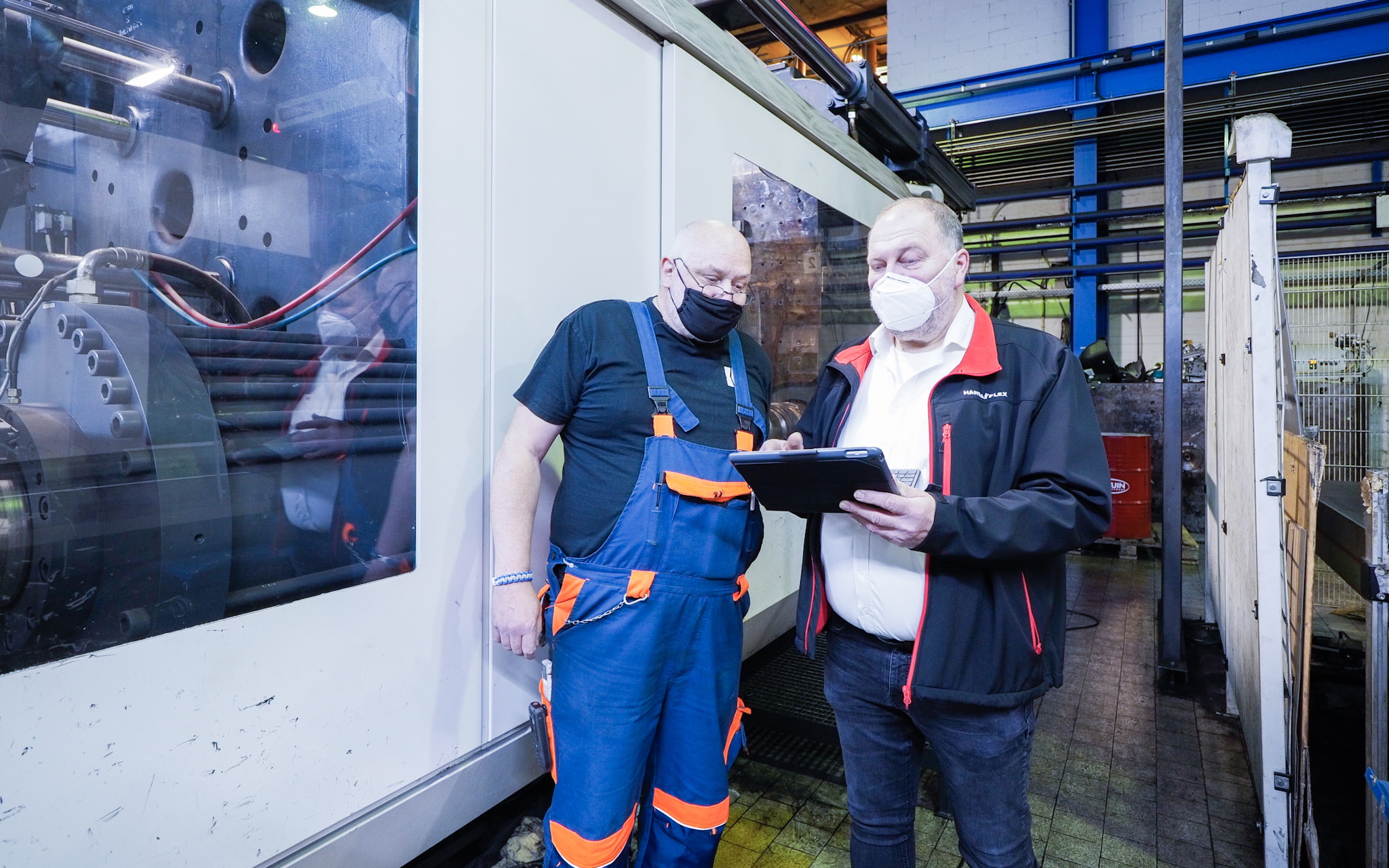 Finding a suitable date for the regular hose change is not easy for the maintenance manager. The machines run in three shifts around the clock.
Christmas peak time
This complex process is largely controlled hydraulically. Almost 200 hydraulic hose lines connect the oil tank with the aggregates and cylinders. When it became time for the scheduled hose line replacement, Holger Stryck turned to
HANSA‑FLEX
's Industrial Service. He has been working with the Goslar branch, which is just a few hundred metres away, since he joined the company 30 years ago. Finding a suitable time for this is not easy for the maintenance manager. "Our machines run in three shifts around the clock", he explains. After all, as long as the assembly lines are running in Wolfsburg, the suppliers also have to keep up with the production cycle. If delivery were to fail and production in Wolfsburg were to be interrupted, the company would be faced with high financial penalties. Accordingly, the time window for maintenance work is narrowed down to a few days a year: "Easter, Ascension Day or Christmas – we can get on with the job whenever the assembly lines at VW are at a standstill", says Stryck. He therefore planned the time for this machine between 21 and 23, and then between 28 and 30 December.
Other sections help
This is peak time for
HANSA‑FLEX
's Industrial Service in the area around Wolfsburg. "All suppliers want to use the Christmas holidays for maintenance work", says Frank Drietz, Head of Industrial Services for the North-East Region at
HANSA‑FLEX
. For the Hanover area, which is responsible for VW suppliers, this would be impossible to manage with its six employees. "But we are able to draw on service technicians from other areas to cover regional and seasonal peaks", says Drietz. Service Manager Muhamed Grosonja, who organised the hydraulic hose line change at KKF Fels for the Industrial Service in Hanover, is grateful that his colleagues helped him out: "I had 16 employees available and had to assign six of these to change hose lines at KKF Fels alone."
Drag chain optimised
Due to the tight schedule, the
HANSA‑FLEX
team took time in advance to analyse the machine on site, identify weak points and advise the customer. In particular the drag chain, which guides the hydraulic hose lines during the machine's movements, needed optimisation. The hose lines were loose inside it and chafed against the chain, which greatly increased wear. The solution: Using cover plates and fastenings for the hose lines, the Grosonja team increased the service life of both the hose lines and the chain. When they installed the new hose lines, the service technicians partly enlarged the nominal width of the return lines to avoid accumulated heat, and optimised the installation positions to prevent twisting of the hydraulic hose lines. After six days, the replacement was completed on time and the system was refilled. It is this flexibility and reliability that Holger Stryck values in his hydraulics partner: "For us, things always have to be done quickly. That's why it's good to know that we can always rely on the right levels of service, quality and speed."